Experimenting with bondage toys brings creativity to the forefront of fetish sex play. Our quality bondage equipment is mostly suited for vanilla couples but we have toys that BDSM experts may find interesting. Light bondage play is simple as tying the hands together to tease and please with playful erotic flair.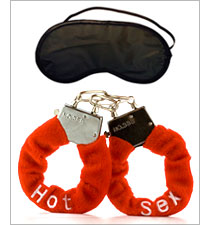 Keep your partner restrained to play fetish or dominatrix games and experiment with bondage restraints which really brings a uniqueness to your lovemaking and erotic sexual encounters.
Browse for an assortment of ties including bondage rope, handcuffs, ankle cuffs, even kinky bondage toys like door cuffs and hog tie rope. This category also includes blindfolds, eye masks and bondage gear kits.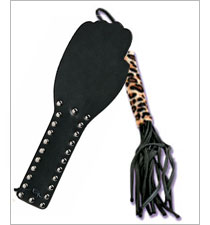 Does your naughty man need a spanking? Every dominant knows that their submissive needs punishment at least a few times per night. Get a BDSM paddle to enforce your rules and a bondage whip to show them who is the boss.
We have many different styles from pretty feminine whips to hard spanking whips that will match any fetish look you want to achieve for your BDSM role play.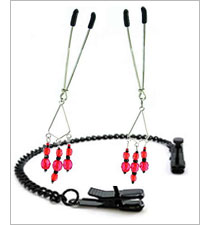 One of the most powerful and overlooked erogenous zone is the nipples. Wearing nipple clamps can give you a constant squeeze which will heighten your sensation during fetish role play, foreplay and sex. These accessories also add a very naughty look to your naked body.
Some adults swear that nipple clamps and nipple tweezers are the best bondage gear they've ever had so if you like nipple play, you've got to bring one of these clamps home.