A cock ring is worn to hold the erection solid for the duration of sex, certain models vibrate or have clitoral stimulators attached which increases the woman's pleasure. A simple sex toy for couples, hands free and without worry of wondering how to use them, just slip it on the base of the penis and enjoy!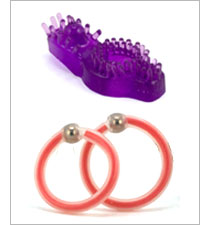 Originally designed to help maintain the erection and to prevent premature ejaculation. Some cock rings fit very tightly and these are the best at stopping premature ejaculation.
Other styles have double loops to fit around the shaft and testicles, this helps to hold the erection higher and your partner will agree it will look more attractive! Constriction devices are safe to use but you should never exceed 20 minutes of wear.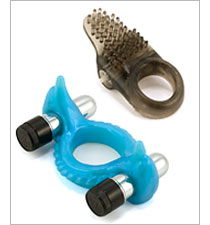 If we could suggest an essential sex toy for couples, it would certainly be the vibrating penis ring. They are hands free sexual enhancers that add subtle vibration and the man will benefit from a firm erection due to the constriction.
Vibrating cock rings are very popular for couples because they don't have the stigma associated with typical sex toys, it's a great idea for first timers.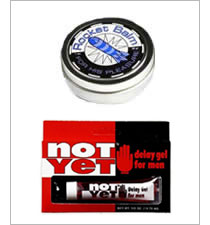 Benzocaine is a safe topical anesthetic which removes some of the sensations from intercourse for the man. In turn, he will be able to last longer during sex. It's a tried, tested and true way of preventing premature ejaculation.
Apply some benzocaine cream or spray to the penis tip 10 minutes before intercourse and you can delay your orgasm to please your partner a little longer then you normally would last.