Clitoral Stimulators Guide - Page 2
Wireless Clitoral Stimulators
Wireless clitoral stimulating sex toys do not have a hand held controller, instead they usually require watch sized batteries, and have a small bullet vibrator in the base.

Turn the base to activate the vibrations, and you free to roll around wherever you are, and not have a messy wire in the way. These clit toys can be very silent and waterproof. Not all are waterproof however, so be sure to check the detailed description. If discretion is your prerequisite, this is your best choice.
Corded Clitoral Stimulators
Having a cord attached from the vibrator to the hand held controller means more power.

Usually takes 2 AA or 2 AAA batteries, which will give you slightly more power than a wireless clit toy which normally takes cell batteries only. This is why we like bullet vibrators slighty more thn the other clitoral stimulators. If strength is important, we recommend skipping the wireless variety altogether and getting a corded stimulator only, the most powerful is the Turbo Bullet.

Strap On Vibrators
One of the only female sex toys that are totally hands free. They are added to the clitoral stimulators shopping guide because they are not in the same realm as traditional vibrators for women, they are very different and normally never able to bring you to an orgasm, it's best left for foreplay only.

Many women wear strap on vibrators during sexual intercourse to enhance pleasure, the little vibrator stimulates the clitoris during lovemaking leaving your hands free to do whatever you please with your partner. Try wearing it around the house as you prepare for a big date or before sex, It enhances your sexual arousal greatly and gets you thinking the same that your man does!
Pocket Rockets
Pocket Rockets are designed for women who crave pin point stimulation on their clitoris. Normally made from plastic, and can have rubber, jelly, or plastic bumps on the end.

Many pocket rockets come with one or more different attachments that will slip over the end and give you a variety of sensations. They are quite powerful, and consequently are noisy however if you're looking for cheap sex toys we would recommend this type of vibrator.
Vibrating Panties
Unique adult novelties, popular gifts for Valentine's Day and perfect when you want to hide your pubic hair stubble but still want to have sex with the lights on.

Usually, vibrating panties will come in a thong design, and most have a mini bullet vibrator that slips into a little pouch perfectly placed against your clitoris. Some panties are more like a regular thong, and some are crotchless for better erotic encounters.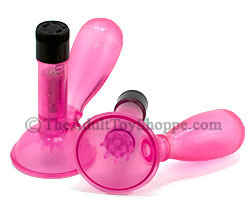 Nipple Toys
The nipples are an often overlooked erogenous zone that adores attention and Nipple toys are made for this reason.

When a women's nipples are stimulated by fondling, sucking or any kind of romantic tickling, extra arousing hormones in her brain are released, which has a substantial effect on other erogenous zones.

Nipple clamps are another popular option. The squeezing pinch greatly heightens all other sensations. A little on the kinky side but there are some nipple clamps that are colored nicely and well suited to the average person that won't be too far beyond your comfort zone.




© Legend Sales Corp. 2012 All Rights Reserved

To order over the phone: 856-382-0628