Anal Toys Reviews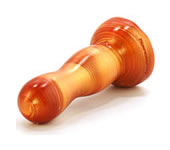 Anal toys are of equal benefit for both women and men. The anus is filled with sensitive nerve endings and by putting pressure on these secret hot spots, your orgasm will be lifted to the next level of excitement.
Try using anal toys during masturbation, for a new feel you are sure to enjoy. Start small - it is advised to use a smaller sized plug for the first time and as you enjoy it more and more, move up in size for a better feel.
Be sure to use anal lubrication every time, anal lube is thick and ideal to coat your anal toys to allow for easy insertion. Experiment with different shapes, sizes and even try a vibrating anal sex toy. Great for solo use and sexual encounters, there is an undeniable sensation that an anal toy will add to your sex life!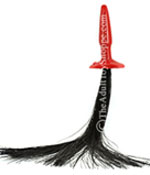 Pony Play Butt Plug
I dug the look of this butt plug, it is such a fantastic gift idea. The butt plug size is really small, it fell out when I used too much lubricant. Normally I use a medium sized plug and I found this one way too small for me but if you are new at anal plugs, then these size dimensions are perfect. The long whip looks really sexy when my g/f wore it! Especially while doing it doggie style! One bad thing is that when you roll around and change positions, you might kneel on the whip and it will pull it out of the ass.
The plug is really sturdy so it is easy to stick in, but it might want to fall out. Maybe it's more of a fun novelty gift or a 'sometimes' thing but I would not use it every time I had sex because it would get in the way and get kind of annoying having to stop to stick it back in again.
the whip part is molded into the base of the plug and I don't foresee it falling apart. It is costly for what it is but it appeared to be built very well and won't fall apart on you, it hasn't on me anyway! The whip is nylon and very thin strands so It's again more of just a novelty as it won't really welt like a leather whip when you use it on your partner, but I guess that's to be expected. (Click to see the
Pony Play Butt Plug
)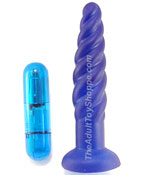 Beginner's Wireless Vibrating Butt Plug
This was probably the most non-intimidating anal plug I have ever seen. This is my first time review on an anal toy and I'm glad I chose this beginner's butt plug. The tip is jelly-like and you can easily bend it and squeeze it. About half way down the plug, where the bullet sits, and you can feel it gets firm (when the bullet is inside the hollow plug). It is really soft and easy to 'screw' in, the shape really makes a difference! It buzzes loudly, however, the vibrations were really high-intensity/high-pitch vibrations that really added a lot of fun to sex. It was so kinky having this super high pitch vibrations right inside the opening, it was something that I will never forget! The feeling was very incredible.
Be careful, once you insert the vibrating bullet, it will get stuck inside the butt plug and you won;t be able to get it out again! Make sure you put the battery end facing the opening/bottom of the butt plug so you can quickly pop the battery in and twist top shut to turn it on, otherwise you might have to practically destroy the jelly plug to get the vibrating bullet out of it again. I fell in love with this little butt plug and I really think that everyone should try it. The small size does not hurt and the screw is so easy to put in the butt. It's short so it does not feel too invading. Just right! (Click to see the
Beginner's Wireless Vibrating Butt Plug
)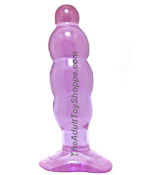 Anal Stuffer
I like the idea of the shape of this item, it seems kind of big to me, it doesn't really insert easily because it gets wide right away. Just make sure you have lubricant. So I tried wearing it during sex, I was afraid to insert it all the way because it was really long to me so I held it in half-way. Even though I didn't put it all the way in, it really felt good and I cant even start to explain how much better it made sex feel! Maybe it wont fit well because I'm a small person but I'm sure a larger person will wear it well.
The toy is really squish but not floppy, it's hard to explain but it will squeeze it's way into your bum and fill it with this really interesting plugging feel.
I think it's one of those anal toys that some people will like and some people won't. I can best describe it as 'weird', it was like unnatural to be in there but it really made sex feel better. Maybe one day I will stick it in all the way, until now I just might use a different anal plug, I like how it is wide and blunt at the tip, but I'm sure I can find the same type of toy without the length. I would recommend the Anal Stuffer to people who enjoy a big plugging feel in the butt, they will love this toy forever. (Click to see the
Anal Stuffer
)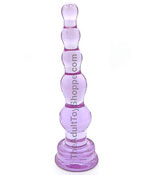 Anal Tool
Wow this thing felt really interesting. Move it in and out for a great ass feel! I loved it! Unlike any other anal toy. The bad part is that it is really bendable and it's hard to stick in the ass because it bends and flops too much. You need patience when sticking it in!
Try this, stick it in and move it in all the way and out, but not too far because it will fall out and then not want to go back in again, but if you thrust it really fast in and out, the bulbs really feel interesting. I can't describe that feeling but I'm sure that everyone will enjoy it. It goes really deep, it reaches where you might not felt before but it stays thin so if you don't like your bum toys wide, try this guy. I've used butt plugs but never a toy like this. I would use a butt plug for sex and this toy for foreplay. It is hard to use on myself so you have to get someone to use it on you because it's too floppy and you will pull it out to easily. I don't know what else to say, this toy does not have the same feel during sex as a butt plug does buy I would get this if you want to experiment with something different. (Click to see the
Anal Tool
)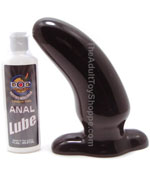 Rear Enders
This is only for the experienced. It's huge! I bought one for me and one for the woman and thought, do we really have to stick this in our ass? After a night of drinking and after using almost the whole bottle of lube that came with it, we tried it. All I can say is Wow! Sex has never been better! You might have to bite down on something while you insert it!
If you are not an expert with anal toys, stay away from this one. If you love big anal toys, like me and the woman, this is the next-step up. It comes with a big bottle of lube so that's good cuz you'll need it. We both wore one and had sex. She was sooo tight, I could barely fit my dick inside her. It was outstanding. The curve pushed my dick to rub against her g-spot, giving her a g-spot orgasm which is unheard of from just sex.
For me, it definitely pushed against the prostate, it felt like strong pressure that would not let up. It may have been a little uncomfortable but the pressure has big orgasm results. I think this toy will take some getting used to, but wow, it seems like it was designed for sex because it was explosive. The material
It feels very firm and unforgiving but you'll quickly see that it needs to be this easy to put pressure on your insides but you'll shoot harder then ever before and for the ladies, you'll get a g-spot orgasm from sex. (Click to see the
Rear Enders
)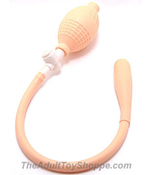 Inflatable Anal Balloon
I wanted to review this product because it really intrigued me. I've always been attracted to the idea of an inflatable butt plug but they were always too big for my liking. I've never found a small one until now. So here we go!
The first thing I noticed about this toy is that you have to use lots of lubrication because if you try to insert this dry, the latex balloon will tear over the plastic tube. I'm not sure how easily it will tear, but just a precaution that you want to be sure it is well lubricated. The tubing is long so you can stick it in as far as you want. The really neat thing is that at every depth it feels different. This toy is designed to be inserted and inflated and left in place, not to be moved around too much, mainly because it won't move!
I put it in shallow and then deep and pumped it up at both depths and it was the neatest feeling because you don't feel anything at the opening, but you feel the light pressure inside, like it's coming from nowhere, it is really neat! I liked this anal toy because it's won't fall out, but the one bad thing is that it deflates itself slowly so you will have to pump it up again, and again.
I liked it because of the small size and how easy it is to use, and is was a neat experience. (Click to see the
Inflatable Anal Balloon
)

Back to
Sex Toys Reviews


© Legend Sales Corp. 2012 All Rights Reserved

To order over the phone: 856-382-0628
All models are at least 18 years of age.