Clit Toys/Eggs & Bullets Reviews Page 1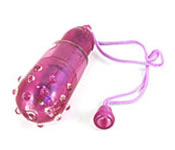 For the majority of women, clitoral stimulation is essential to achieve an orgasm. It is a physiological fact, the anatomy of a women requires for the clitoris to be stimulated for complete sexual arousal and satisfaction.
Sex toys for the clitoris can be used in two ways. Firstly, they can be used solo during masturbation. Tease yourself to arouse your senses or please yourself with a complete orgasm. You can use it in conjunction with a vibrator or on it's own.
Every woman's body responds differently and if you find that you cannot achieve orgasm from a clitoral toy alone, you may want to consider add a vibrator into your self pleasure routine. Another way to use these sex toys is to hold it next to your clitoris during sex. This is the most common use for these mini adult toys and is the primary reason why vibrating bullets were invented.
There are so many clitoris sex toys available from the simple to the complex, to make the decision even more difficult, they all feel different! How do you know which would be the best for you? Read on these reviews for some guidance, there is also a second page of
clitoral sex toys reviews
.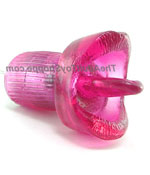 Clit Kisser
I never expected the jelly tongue to feel real, but the tip of the tongue really feels like licking! The pink lips come separate from the bullet, so some assembly is required, just stick it in the hole. The lips are really soft and bendable but not to floppy or anything. They are soft enough that I liked it, I've seen some toys before that claimed they were soft but they were not. This jelly is not dense at all, it moves with you and fits where you put it.
The tongue and lips are cutely detailed like real which I though was a nice touch. The tongue is really long and has a nice point, when I hold open my labia and push the tip around the clitoris, it feels incredibly real! I was totally amazed! The tongue is great, it is floppy enough to flicker around but firm enough not to collapse, this is why I would describe the tongue as very real feeling.
I pushed the tongue into me and the lips kissed my lips, I even felt a little bit of suction when I pushed it real hard which was a nice surprise, I did not expect it to suction! The vibrations are kinda noisy but they feel tingling, have you ever has a guy hum on your lady parts? If so, this is what it feels like, but allot stronger. The worst part of this sex toy is that my fingers went numb before my clit did, you almost have to wear gloves while using this toy because of the strong vibrations! Get this if you like oral sex because it does a great job at replicating it. (Click to see the
Clit Kisser
)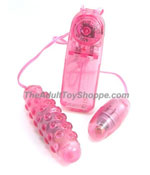 Double Bumpy Bullet Vibrator
Not as powerful as I expected, but it makes sense with two bullets running off one battery pack, and it lights up which is nice but pointless.
Put the bumpy bullet in your vagina and hold the other one on your clit and it gives you a nice orgasm if you like that double stimulation thing. The bullets are both solid and made of plastic, I thought that would not be very comfortable when I inserted it but the fact that they are slim allows them to be comfortable when you insert it. Could be more powerful but at least it's allot more quiet then some other vibrating bullets.
If you don't want to insert the big one, you can use it as a clitoral stimulator because it covers the entire vagina area, so it's quite teasing, but that leaves you with another bullet, what am I supposed to do with that? I wished it could turn off the other one and I could focus all the power to only one. Which brings me to the biggest drawback of this sex toy (besides the lack of power) is that you can't independently control the speed of each bullet, which means that you have to use both. If you let the other bullet sit by you, it will bounce around and interfere with your session. If you like lighter power and need something quiet or maybe don't want a big intimidating clitoral vibrator, this is good choice. (Click to see the
Double Bumpy Bullet Vibrator
)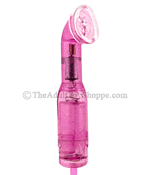 Clitoral Pump
It a sex toy all about precision. This clitoris pump hits the spot better then any other clit pump because of the design. It's made just right with the long handle, in it goes the batteries and it even vibrates to give you a really good feel on the clit. The silicone sleeve is soft and thick so that when you out the cup over the clitoris and pump it stays soft but also has lots of suction. One of the best designed sex toys for clitoral pumps, it looks really good too with the sparkles and hearts on the pump bulb. The vibrations are very strong and any woman will be pleasantly surprised. If you're in the market for a new clit pump, this should be your choice. (Click to see the
Clitoral Pump
)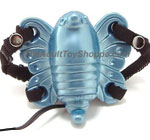 Lover's Arousal
I bought this mainly out of curiosity and here is my review. First, I felt funny wearing it because it is so bulky, it was weird. Almost uncomfortable as the material kind of 'chafed' against the skin, so I wore it over my boy shorts. That was much more comfortable. I don't know if this is how you're supposed to wear it, but wearing it over my underwear meant that I don't have to clean this at all, it will never get dirty!
After a while, I warmed up to the idea of this being strapped to me - and it warmed me up! As strange as the whole idea is, it is actually arousing because you can't move it away and it sits on your naughty spots constantly vibrating on it. You will get aroused from this vibrator, no doubt about that! It sits right on the clitoris and the area underneath it, the straps make it fit in the perfect place. Wear it before a date and you will be as horny as him!
One thing is that it's not quiet and it is quite large and bulky, so much for it being discreet but it's not like I would ever wear this in public or with anyone around! Regardless of the bad things, it loved the hands free powerful vibration in the right spot. The thigh straps are not that large so it would not fit on an extra large woman unless they were modified.
Apparently you can wear this during sex, I did not try this but I see it being possible, but you'll have to hold it higher so it does not rub against his penis when he penetrates. If you want a strap-on vibrator to wear during sex, I wouldn't advise you to get this one because it's too big. I will wear it again, over my boy shorts when no one is home. It's naughty, strange and arousing all at the same time. (Click to see the
Lovers Arousal
)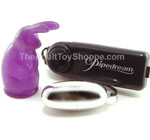 Rabbit Tickler
This toy consists of a rubber bunny and a vibrating bullet. The bunny is unscented which is nice. It feels smooth, the head is solid but the ears are flexible which is good for deep clitoral pronging. The curve of the bunny top is great, let the ears sit on your vagina and lay the vibrating part on your clitoris. Or, it also feels good to use the slightly separated ears to wrap it around the clit is exciting.
The bunny reminds me of the exact same bunny that you find as clitoral stimulator on a rabbit vibrator, in fact, I think it's the exact same design. Try using it during sex, I did and it work really well because it's easy to hold to because of the curve, so you can stimulate your clit while your partner penetrates and you won't scratch his penis with your nails!
The one thing I really did not like about this sex toy is that it is not very powerful at all, but at least the bullet is really quiet. I guess you could easily put the bunny top on another bullet if you need the vibrations to be stronger, it will fit. A good inexpensive clit stim, but I recommend using it over another vibrating bullet. (Click to see the
Rabbit Tickler
)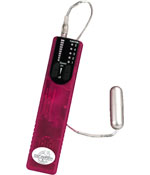 iVibe Bullet
This outstanding bullet vibe proves that you get what you pay for, this bullet costs a small fortune but trust me, you'll never need another again ever! The shape is good, it's long and slender not fat and widen so it's easy to get only clitoral stimulation, not vibrations all over in some blunt uncoordinated pleasure attempt! You get the pleasure where you want it.
When you put the vibrations on the highest, it buzzes a high pitch very quietly and it makes your fingers numb because of the incredible intensity. This is absolutely is amazing, unfortunately, your fingers will get completely numb and you won't even to be able to hold onto it anymore. But, with the extreme power, you'll have an orgasms in no time at all. In fact, you probably won't be able to handle the full power, which has 10 levels of power. Full power is way too stimulating!
The multiple function feature is nice you get variety, personally, only the steady vibration is good, but I'm sure everyone will differ in this opinion. I've never been one for solely clitoral orgasms without penetration, but for me, this little device did the trick. It is easy to use during sex or you can insert the bullet completely into the vagina and turn it up, if you buy this, you have to try it at least once, it will probably be the moat intense sensation you'll ever feel! Dish our the cash and get this. Wow, is all I can say. (Click to see the
iVibe Bullet
)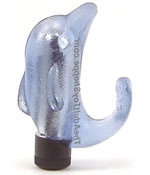 Tickling Dolphin
The silicone material is so much better then jelly. First of all, it does not have a scent which is great, It does not feel sticky al all, only smooth and non-textured. Well, the dolphin is textured with a grippy like surface. It's a nice change from all the smooth sex toys out there, the grippy surface offers a very different feel that I really liked.
It is more firm then I thought but that okay because it radiated more power then a softer or squishy toy.
This mini toy is incredibly powerful for it's size. Don't expect super power, but for it's size, it very adequate. Also, it's fairly quiet. The vibrations are focused on the tip of the bullet - on the dolphin nose and on the head. If you want the most vibrations out of this toy, press the head on your hot spots, the nose is slightly less powerful then the head.
The tail does not vibrate at all and I think the only reason that this dolphin has a tail is so you can hold onto it. It's not as soft as I thought it would be, probably because it overlooked the fact that their is a bullet inside the sleeve so it gives it a solid inside, but being not that soft it's way way better for stimulating, you have to try it to know. Good job on this one! (Click to see the
Tickling Dolphin
)

Go To Clit Toys Reviews Page 2
Back to Sex Toys Reviews


© Legend Sales Corp. 2012 All Rights Reserved

To order over the phone: 856-382-0628
All models are at least 18 years of age.