Masturbator Reviews Page 1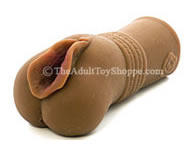 It's difficult to understand how a male sex toys will feel. Just by looking at a picture, most seem impossible to penetrate! The masturbators are deceiving to the eye however because they are all extra stretchy and will fit with a tight feel with stretchy comfort simulating various sex acts, like oral sex, anal sex or vaginal sex. The following reviews are for your reference to get to know what to expect.
There are a few different types of male sex toys but they all have the same function, by creating a tight feel around the penis to promote ejaculation. They are used in a similar manner to a hand job, but the material wraps your penis in a better feel then a hand job alone.
Many feel different but variety is the spice of life, and variety is also the key to a good sexual feel. By purchasing a few different types of sex toys, each masturbation session will feel different from the next, assuring you won't grow tired and bored with your sex toys.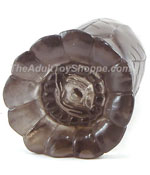 Black Orchid Masturbator
It feels like it's pushing on the head of your dick and sucking on the shaft at the same time. It's tight but not so tight where it flies off. Thick and plump and coated my hand in jelly so I did not feel myself giving myself a handjob. This is the greatest sex toy for men. It made squishy sucking sounds when I used it which I thought was funny because this toy is supposed to be like a blow job - it feels like a blow job, sounds like a blow job but it does not look like a blow job! I don't understand why manufacturers make men's toys look like flowers, it was decorated with leaves and petals which I thought was kind of gay.
I did not like how it was closed at the end so I came in it and it felt like I could not really get it as clean as it was before I began. I did get to clean it out, I was in the shower and used soap but it took a long time to clean out. I think next time I will pull out first. It really did feel good and is quite squishy. It's very short though and won't reach the base if your penis. It sucks on the tip of my penis, even though it did not go all the way to the bottom, it still did the trick and felt really enjoyable. This male sex toy will make you cum in a very short time, there is no doubt about that!
(Click to see the
Black Orchid Masturbator
)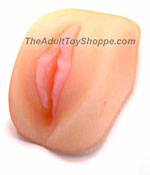 Cyberskin Sex Buddy
I have never felt a toy that feels so incredibly real as this one. It felt extremely realistic. You will notice that there are two 'solid' pieces embedded inside that feel like the pubic bone when you have sex with a woman. This pussy is tight in the right places to simulate actual sex. The features of the inside if the vagina are really well replicated here. It hugs your cock but you'll need to lubricate her well to slide through.
It looks quite realistic too, as you pull out her pussy lips move with you, but the lips stop at the hole so it's not completely realistic as it could be. It's like a mis-shapen women but the parts that are there are quite real. The design is different then the typical pocket pussy because normally, they are a pussy and then a seperate sleeve. This is one big chunky rectangular piece. There are a few good things about this, one is that it makes it feel real with the solid pubic bone as I described above. Another good feature is that it is easy to hold on to, it fits in the palm of your hand and is really easy to use. It's open ended which is good for clean up. The length was perfect for me, I reached the end without poking through. It made realistic sex slupring sounds when I went quickly. This is one of the best sex toys for men I have tried and I really enjoyed it.
(Click to see the
Cyberskin Sex Buddy
)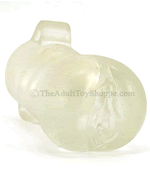 Jelly Grip Stroker
This is a fantastic masturbator. It feels very good, the stroker beads are covered in jelly so they don't chafe, but they are perfectly set in the material so that the feel is noticeable. The handles are a good addition because these unusually fly off the cock when stroked, especially when lots of lube is used. You won't drop this one, it stays because of the finger grips. The tightness is just right and the size is good so that it pads the cock well. A very good sex toy for men, I highly recommend this one. (Click to see the
Jelly Grip Stroker
)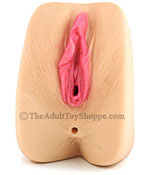 Jessica Drake's Pussy and Ass
An incredibly realistic vagina. If you lubricate it well then have sex with it, it really looks real. The 'skin' moves like real pussy skin and the look is incredible. If you are a shaved pussy man, you need to get this pocket pussy. I like the shape of it, you can either hold each side of the cheek and stretch it open, or hold the tunnel to squeeze it tighter around your cock.
As real as this vagina looks, it does not feel that real. But don't get me wrong, it feels great. The vagina entry is really tight and hugs your cock tight like a virgin. Once you penetrate, it leads the way to the extra wide tunnel. If you hold this toy with the cheeks, the tunnel is so loose, it's like there's not much there. The long teasers inside the tunnel tickle for a really good feel. I really enjoyed how long the tunnel was, it covered the entire penis.
You can also penetrate the asshole, mine had an ass cherry which I got to puncture. The ass is tighter then the vagina. this makes it very real. You can use vibrations which I did, I found the battery pack got in the way if I stood up and then the bullet fell out, so I had to use it sitting down, or you can leave the vibrating bullet out altogether and use the hole in the back for your finger to hold on to the top of the pussy as you penetrate it. An excellent sex toy for men and even though it does not feel that real, it is definitely worth getting because it looks and feels great.
(Click to see the
Jessica Drake's Pussy and Ass
)

Fondle My Pussy Stroker
The jelly this sex toy is made of jelly, but not like the jelly you would think it's made of - it can be compared more to silicone then jelly, which is good because it carries a bigger price tag then the typical toy of this nature. After using it, I see where the hefty price tag comes from. It really is quite astounding. Not very big, but thick so I did not even feel my hand holding on.
The inside is ribbed and unlike other toys where you can't even feel the ribbed interior, this one latched on to my penis, dragging the rubbed surface as I trusted. It may make no sense for you reading this but the point that I'm getting at is that yes, you could notice the ribbed interior and it was very exhilarating! It is designed to look like fingers holding open a pussy, you can notice the fingers as they are nicely realistic, but it does not look too realistic like a vagina. Still it's fun to look at and it gets the job done very well. At the beginning are bumpy nodules, but you don't feel these. I really enjoyed the thick surface at the point of entry, it felt good rubbing on the testicles and the base of my penis. (Click to see the
Fondle My Pussy Stroker
)

Blueberry Pocket Pussy
This is an interesting toy. The first thing you must be aware of is that it is extremely noisy. Like a remote control airplane, it buzzes very loudly. The reason is that it rattles in the jelly holder where the bullet sits. If you squeeze the bullet, it will reduce the rattle and make it a little more quiet. Despite the loud noise, it is very powerful. The vibrations vibrate on the top of your penis but the vibrations rattle through the entire shaft as well.
Be aware also that the hole is only just slightly under 1 1/2 inches wide so if your penis is thick, it probably won't fit into this toy. Luckily for me, I am an 'average' sized man so I fit, tightly but it did fit.You must have lube, if not, there is no way you can ever use this toy. The jelly material is really thick and not squishy or flexible at all, it is quite solid. Once I lubricated the sleeve and stuck my dick in, it was irritating with the unforgiving so called 'ticklers' as they scratched my penis as I slipped it in. Once it was in, I turned up the vibrations and thrusted with fast but very shallow thrusts. I was surprised at how good it actually felt, I came quick. Spitting it out the back for easy clean up is a great feature of this masturbator. Not the greatest sex toy I've ever used, but it was different sensation then I have ever felt. Sure I would recommend it if you are looking for something different but beware that you need lube and if your penis is too big, it won't fit and thrust shallow or it might be too uncomfortable. (Click to see the
Blueberry Pocket Pussy
)

Back to
Sex Toys Reviews


© Legend Sales Corp. 2012 All Rights Reserved

To order over the phone: 856-382-0628
All models are at least 18 years of age.