Vibrator Reviews - Page 3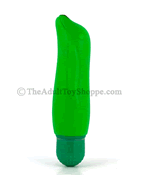 Silicone Dolphin Vibrator
This is basically a beginner sex toy in a very cute, very safe package. The material is silicone and for the price you have to pay it's the good kind of silicone, there is no scent and it feels solid but smooth. The vibrations are at the tip which is a good feature. They are nicely placed although the motor is not very strong so there is no way I could never climax while using this sex toy. It's basically best for a gift for someone who doesn't already have a sex toy who has sensitive skin. I know that it cuts your target market down quite a bit but for that person, this can be one of their perfect sex toys. (Click to see the
Silicone Dolphin Vibrator
)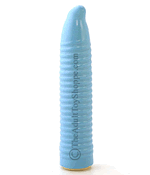 Ribbed Softee Vibrator
The value for the dollar is very good on this one. Value sex toys can be difficult to judge because sometimes they are cheap in quality, but I was presently surprised with this one. The rubber sleeve is thick and smooth, not very stretchy but this way it holds the shape better so you can feel the ribbed shaft. It's not a very noticeable feel so don't think that the ribbed shaft will make-or-break the vibe, it's more like a ribbed condom where the texture is very subtle. The vibrations are very strong, but noisy too. (Click here for the
Ribbed Softee Vibrator
)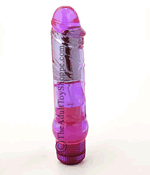 Gyrating Vibrator
This is a big, strange sex toy. It is thick and blunt, not soft at all, rather it's solid as if it were made of plastic. The head is shaped well and it feels like a penis when you thrust it. The vibrations actually rotate rather then vibrate, but the shaft itself does not rotate, it's the entire thing that literally throws itself around in a circular motion. When it's inside you, you notice the feel, it's a big feel that thumps instead of vibrates. I liked the unique feel and it seems to me like this is more of a fetish sex toy then a regular everyday vibrator.
(Click here to see the
Gyrating Vibrator
)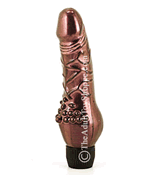 Mini Cliterrific Penis
A sex toy that looks better then it feels. This is great for a gift because of it's appearance and tiny size, it's good for the first timer, but I was faced with a familiar problem, not enough vibration,. It has some but not enough to make me climax. You really have to pay attention to how many batteries that sex toys use because the less batteries, the weaker it will be. Using 2 AAA batteries is weak compared to 2 AA batteries. The material is solid and you can notice the seams which is not too pleasant. The large bumps at the base gives a nice feel as you penetrate deeply, and it's very possible because this vibrator is so small. (Click to see the
Mini Clitterific Penis
)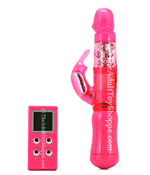 Remote Control Rabbit Vibrator
This is identical to the iVibe vibrator with modern touches and netter material, if you're not familiar with the iVibe, it's one of Doc Johnson's best sex toys, although in my opinion there are other similar vibrators for a better price which are way better (check out my review for the Waterproof jack Rabbit 2). This one is silicone so it will appease the new age sex toy shopper. The remote control function is very sweet, there are enough functions to keep any lady happy. The metal beads and clit stim feel good as usual. You can't stand this up so it's difficult to keep it from touching germy counters and lint coated bed linens etc. that seems to be an oversight in the design. (Click to see
Remote Control Rabbit Vibrator
)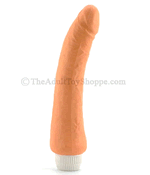 Long John Vibrator
A great vibrator with a horrible name! It's latex coated over a solid shaft so it feels like silk when you touch it but it wont bends so when you insert it and thrust it, it keep the curve and gives an internal massage that feels really nice. The curve is just right and it's fairly easy to hit the g-spot even though this is not marketed as a g-spot sex toy at all. You may notice the seam on the side which takes away from the realism, but for the cheap price you can't really be too picky. A good example of value sex toys with enough power to please.
(Click to see the
Long John Vibrator
)

Go To Vibrator Reviews Page 1
Go To Vibrator Reviews Page 2


Back to Sex Toys Reviews


© Legend Sales Corp. 2012 All Rights Reserved

To order over the phone: 856-382-0628
All models are at least 18 years of age.