Vibrator Reviews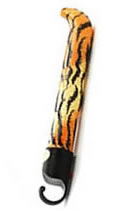 Vibrators have a long history and have evolved into varying designs that appeal to different sexual desires. With all the choices available, how do you know which is the best for you? By reading following vibrator reviews, it will help you to get an idea of what to expect.

When shopping for a vibrator, different styles have different sensations and there may be more then one type that appeals to you. Stock your sex toy box with different kinds of vibes to give you some variety because like anything you use too often, you will get tired of the same feel. The same goes with sex toys. Variety is the spice of life so try different things and add more excitement to your solo satisfaction!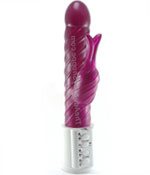 Ravenous Rabbit Vibrator
Get ready for a good time with this sex toy! I loved it. The best part is the long ears that rub up all over the right places. It's about time that there's a rabbit vibrator that actually stimulates the clit instead of missing it. The ear tips do not press against the clitoris, instead the long ears sit over top so it's more of a teasing feel and less direct. The spiraled shaft is supposed to be unique as per the description of the product, but I didn't even notice the difference, it felt smooth to me. The twirling head is nice, it feels like a fat finger moving around in circles inside you, it's a really good feeling. It does not go very deep which is great for a small person. The only really bad thing is how noisy this thing is. It sound like the motor needs to be oiled! It's almost too noisy for me because it interferes with the mood. Buy this vibrator for the long ears, its amazing, a great buy but remember to wear ear plugs! (Click to see the
Ravenous Rabbit
)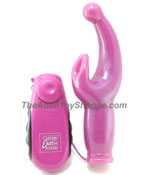 Sensual Curve Clitoral Vibrator
A wonderful little sex toy and it smells nice. The curve feels nice inside and the entire thing is powerful enough and quiet to be discreet. It's a lot smaller then I expected but it works very well. The clitoris prongs don't really hug your clitoris unless you put it in between them yourself, but when you do it feels amazing, it squeezes it and the vibrations are very strong there.
You can't thrust or move this vibrator or the prongs will move away from your clitoris but if you set it up right and hold it still, it's a good vibrator that pleases very very well. I did not like the fact that you can't move it around at all, I personally like movement and thrusting, and this vibrator is only for women who don't need movement. The little ball at the top of the vibe is cute but you don't really notice it inside. The inserting piece is so small that you almost don't feel it, the vibrations internally are more weak then the clitoral vibrations but they are still noticeable so it offers a really interesting sensation. The curve claims to hit the g-spot but it only brushes it lightly, more of a tease, maybe because it's too flexible or not long enough. All in all, it was nice. (Click to see the
Sensual Curve Vibrator
)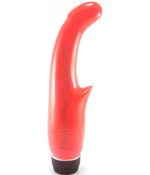 Pagoda Vibes G-Spot Vibrator
A big, squishy vibrator. It feels good inside because it's so soft and it bends easily. The clitoral nub doesn't reach your clitoris unless you bend the vibrator way up, but it can bend any way while it's inside because it's so flexible. The clitoral nub prevents it from sliding in all the way and adds a little bit of outside stimulation. When you bend it around, it vibrates around different places inside, kind of like a probe. The vibrations are really quiet and it's lower intensity, more of rumbling vibrations then tingling vibrations sex toys. I like it, it's different then other vibrators I've tried. It could have vibrated more strongly, but I enjoyed the flexibility and for such length, it stays thin so it's not too wide and you can easily glide it because it's so smooth. Good sex toys for the first timer who wants a large vibrator because it's not intimidating and is extremely comfortable. The greatest feature of this vibrator is it's comfort. (Click here for the
Pagoda Vibes G-Spot Vibrator
)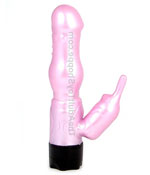 Dual Stimulator Rabbit Vibrator
The best vibrator ever, period. I use it in the shower and orgasm in like a minute. The rabbit ears don't reach my clit but with the way I hold it, it pushes the flexible clit stimulator up to hit it perfectly, it digs in around the clitoris and this alone will make you come. Such an incredible vibrator for such a cheap price, it was almost too good to be true! The best way to use it is to insert it and then push with your thumb on the clitoral stimulator to push it upwards so that the split ears will push on your clit. They are really firm so that they don't flop away. You can't really move this around in a thrusting motion or the clitoral stimulator will fall away from your clit, but that's quite alright because you don't even need to move the vibrator. Just hold it in one spot and it does all the work. The shaft gets wide with a bulb like feature at the base and that's where it vibrates. Right on the vagina opening, it is wide and gives you a plug-like feel where powerful vibrations come from. Incredibly good. I did find it quite noisy, but bring this into the shower with you and no one will hear it over the running water. Everyone should buy this vibrator, one of the best sex toys! (Click here to see the
Dual Stimulator Rabbit Vibrator
)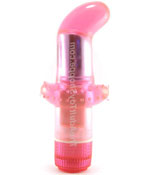 Waterproof Chubby G-Spot Vibrator
A good little vibrator. They're not kidding when they call it chubby! The shortness feels more like a vaginal plug then a vibrator, but the vibrations are strong and the rim around the vibe is really quite stimulating when you try to push it in real far. It rubs on the vagina lips. It's really a tease because you just want to shove it in and it's won't go. Push and push as you might and it is so stout that you won't poke yourself inside! I like it because it doesn't penetrate deep. I wish it vibrated more at the end as it hit the g-spot, that would have felt better. The vibrations are focused on the rim that stimulates the outside. I would call this a minor flaw in the design, but on the other hand, it makes it different then other g-spot vibes because of this reason. The material is not as soft as it looks and I rather enjoyed this because it made for a better g-spot stimulation. I loved that fact that it's waterproof because it joined me in the jacuzzi! (Click to see the
Waterproof Chubby G-Spot Vibrator
)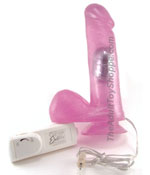 Perfect Penis Vibrator
I love this one! It has the exact features of a real penis without looking like a real penis. It's really pretty with purple sparkles inside the material. It's not too big and feels really good. Almost like real, it's quite astounding. You would think that it does not feel real because it dies not look real, but it will astound you with how real it really does feel. The big balls feel nice when they tap on your ass as you have sex with it. The vibrating are very, very strong and really quiet. The vibrations come from the egg in the middle but they spread all over the shaft for a good even feel.
The shaft is realistically sized and is enough to be satisfying without being intimidating to the boyfriend or husband or whatever the case may be. The head pokes out like a circumcised penis and the probing feeling is juts like sex. The battery pack is removable so that if you want to use it as a dildo, you can. There is a suction cup on the bottom of this adult toy but it did not really stick very well, it appears to be too thin. That's okay because it makes it easier to hold on to. There is not one thing that I did not like about this vibrator. My boyfriend uses it on me and it's a lot of fun for us both. (Click to see
Perfect Penis Vibrator
)

Go To Vibrator Reviews Page 2
Go To Vibrator Reviews Page 3


Back to Sex Toys Reviews


© Legend Sales Corp. 2012 All Rights Reserved

To order over the phone: 856-382-0628
All models are at least 18 years of age.